I am very excited – both about the new skills I have been learning this year, and about the amazing people I have met.
I would like to thank Roberta Faddoul at QC Seminars for her vision in creating the scholarship programme for people wishing to learn about Neuro Linguistic Programming (NLP).
My friend, Stan Nelson of the Streetsmarts Self Defence Tactics Academy recommended the NLP course to me and it sounded interesting. Thus  I attended the I-NLP Practitioner Programme in Perth in June.
It was frankly one of the best decisions I ever made. I have always been interested in the subjects of the power of self talk, the psychology of success and body language, so this was right up my street.
It was very quickly apparent to me that George Faddoul and Matt James are masters of their craft – they are gifted teachers and absolute gurus of NLP.
Furthermore, Matt, who is from Hawaii is a master of the esoteric teachings of Hawaiian Huna, which assists you in connecting body and spirit. That's why I had to wear a Hawaiian shirt, to make him feel at home!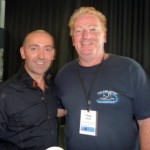 I was also delighted to meet former Australian astronaut and financial guru, Nik Halik, who was promoting his Sharelord programme.
By the way, here is a modern definition of 'guru' from the  Miriam Webster dictionary:
a : a teacher and especially intellectual guide in matters of fundamental concern
b : one who is an acknowledged leader or chief proponent
c : a person with knowledge or expertise : expert
A Real Life Story About The Application of NLP

I used my recently acquired NLP skills to be able to anchor my thoughts to a very empowering moment in my life, which I was then able to put into effect in a very dramatic way.

My partner, Jo's father recently passed away and the family asked me to deliver the eulogy at his funeral. My initial reaction was that I would struggle to get through the speech without choking. (They do say that a lot of people have such a fear of public speaking, that they would rather be in the coffin than delivering the eulogy!)

My concern was less about the public speaking, because I am pretty at ease with that now, it was about wanting to do a good job for the family. Initially, I didn't believe I could do it, so I declined and suggested that the celebrant could deliver the speech if I wrote it.

We had a family brainstorming session on anecdotes and I crafted a speech, linking the various stories. When I read it out to the family in the safety of their loungeroom, they implored me to make the speech in public at the funeral.

Having just completed the basic course, I had learned a powerful empowerment technique so

now I began to believe I could do it.

In fact, being a visual person, I could see myself doing it.

When we entered the room and saw the screen filled with a lifetime of images to the right, a sea of mostly unknown faces to the left, and of course the emotional sight of Alan's coffin in front of me, my heart started pounding like a steam engine. To say I was a tad nervous would be a huge understatement.

I used the technique to slow my breathing and my heart rate, to calm myself and to change my whole state.

As I stood up to deliver the eulogy and faced that crowd, I knew I could do this.

As the words began to flow, I was able to relax and adjust the tempo, the tone and the timbre of my speech. I have to confess to choking very slightly on the final sentence, in fact to some people it went unnoticed. I was proud that I had been able to do my best to honour the life of a fine man in a way that gave comfort to his family.

Without the NLP skills, I know I would have struggled – in fact I might well have left the job to the celebrant, who had never met the man.
I was so impressed that I then invested in my continuing education by flying to Sydney to attending the 6 day NLP Master Practitioner Course. That too, was life changing.
Once again, we had the wonderful teachings of George Faddoul, accompanied this time by Nick LeForce, another guru in his field.
Just as I had in the first course, I met some extraordinary people on the advanced course, may of whom I believe will be lifetime friends.
When I sold my tourism business I had owned for fourteen years last year, I was at another crossroads in my life.
Now, one year later, having contemplated and explored several opportunities, including writing a novel, I know with clarity where I am heading.
My future lies in helping and inspiring others to achieve amazing successes.
NLP is another wonderful tool to put in my personal toolbox to assist me in my mission.
For those who have known me for a while, I can also tell you that with the help of NLP, I am now progressively regaining the fitness of my youth, and will be running the Perth City to Surf 12 km fun run on the 28th August, sponsored by local charity, the Activ Foundation and by Chevron.
If you want to learn more about NLP, see George's link here, where you can obtain his free DVD on 'How To Get A Bigger Bite Out Of Life' , or contact me using the form on this website.
Until next time, live your life with passion!