This Book On Sale Now Direct From This Online Shop (Or Your Local Bookstore)
Scroll down To Purchase Your Author-Signed Copy!

The Parrot And The Lady – Introducing Randy Short 008
Description
The South Pacific island of Espiritu Santo is the backdrop for this tongue-in- cheek spy thriller. The action centres on a quest for treasure aboard a WW2 shipwreck whose mysteries link Government secrets of the past with a modern world confused by political correctness. Randy Short juggles a stable family life with his role of Australian Secret Service Agent. His family vacation is interrupted by a call to duty that will pit him against dangerous foreign operatives in a race to solve the enigma. From an eclectic cast, the Aussie befriends CIA mercenary Gus McThompkins in their personal 'War Against Terror.'
Scroll down the page to order directly or you can visit your local book store and ask for a copy.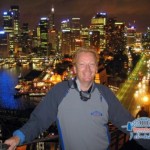 Author Biography
Tony Inman was born of English Hotelier parentage in the English Channel Island of Jersey and grew up helping in family tourism businesses. Employed as a Retail Manager, he emigrated to Perth, Western Australia in 1985 and continued in that career until starting the first of his own tourism-related businesses in 1996. Tony still has interests in tourism promotion and marketing but now combines his loves of travel, flying and diving with a passion for self-expression through writing, music and coaching. Tony has two grown-up children, Craig and Kim. His influences are Ben Elton, Clive James and Monty Python.
Thank you for your interest and look out for Randy Short's next adventure, coming soon…